The RealWear Navigator™ 520 is the most recent ruggedized augmented reality tool created to engage, enlighten, and elevate the contemporary frontline professional.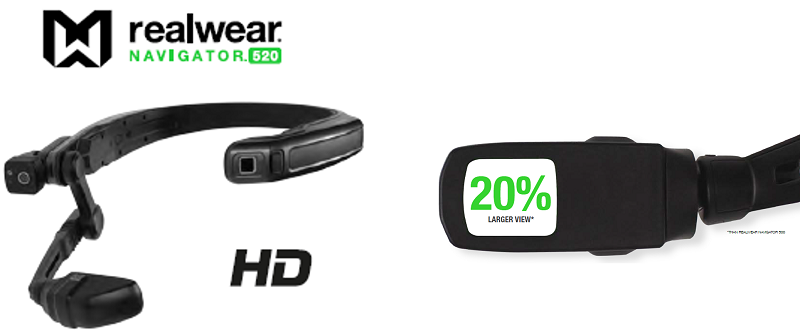 THE BEST JUST GOT BETTER
When you thought RealWear Navigator 500 was the pinnacle of frontline wearables,
RealWear raises the bar with the release of our upgraded eye box, the HyperDisplay.
A bigger, sharper, bolder image is provided by the HyperDisplay, which is bundled
with the new RealWear Navigator 520 to improve work on the front lines.
Viewability! The new display is larger, clearer, and more vibrant than before. The RealWear Navigator 520 has more eye relief, which has nothing to do with how comfortable it is on the eyes and instead relates to how distant the screen may be from your face. This is clearly wonderful for visibility and is a fantastic advancement for anyone who wears glasses or goggles because the display no longer needs to rest on their lenses.

The new boom arm also has a large eye box that houses the display. This means that all four corners are more visible and content can be viewed from more angles. When one of the users on the RealWear team (who wore glasses) first approached the RealWear Navigator 520 on his desk, he noticed that he could clearly see the display before he even picked it up, let alone put it on his head. We also started showing the device to a few customers and they were completely blown away by the visibility.
The large eyebox is also very helpful as small movements will not cause the display to move out of your field of view.
RealWear Navigator™ 520 with new Hyper Display changes the way you look at the future of frontline work
For Complete Specifications 
on RealWear Navigator 520, check out our handy datasheet.
Fill out the adjacent form and a member of the Applied Precision 3D team
will reach out to you to provide more information on the RealWear Navigator 520,
or any of our other augmented reality products and services.